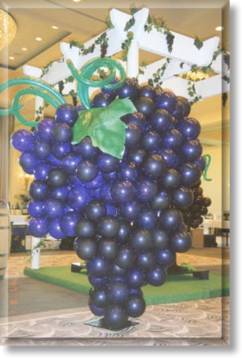 Balloon Decorating:
Celebration Balloon Center is a unique balloon decorating company dedicated to creating high quality, cost effective balloon decor. Balloons will draw your attention to or highlight and enhance your product or presentation with a rainbow of colors and a wide range of sizes. With logo reproduction, custom imprinted balloons, centerpieces and room decor for banquets, trade show booth decor and beyond, let us help you create excitement with innovative ideas that will make your event a sensation!
Balloon Bouquets:
Celebration Balloon Center can help you remember friends, family, loved ones and co-workers on their special day. A fun and eye catching balloon bouquet is a perfect way to celebrate a birthday, anniversary, new baby, new home or promotion. A bouquet can say "I Love You", "I'm Sorry", "Cheer Up", "Get Well", or "You're The Best"! In fact, you can say most anything with a Balloon Bouquet! Attach a mug, cookies, candy, teddy bear or gourmet food basket to really personalize your bouquet. Our staff of talented professionals use balloons of all shapes, sizes and colors to create eye catching bouquets.
Event Planning:
Located within Celebration Balloon Center is Event Planners, Inc., a full service event planning company, specializing in both corporate and private functions. All aspects of your event can be coordinated by our planners, or we can assist you with specific aspects of your function. When everything has to be perfect, you can rely on the "event planning" specialists!