The hallmark of Celebration Balloon Center is dependability and superior service to our clients. We are dedicated to the pursuit of excellence in balloon decorating, balloon delivery, and balloon design work. We are committed to the most comprehensive training programs available in our industry and have aligned ourselves with leading professional balloon organizations to ensure technical competence and cutting edge designs. We believe that the foundation for future success depends on upholding these professional standards and practices and promoting good faith in all business relationships.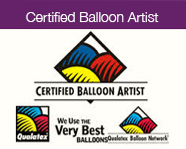 Brian & Jennifer Sabo
Celebration Balloon Center ("CBC") was started in the Early 80's as one of the original premier Tampa Bay Balloon decorator and service companies. Jennifer started working with Shaz in 2012, bringing on her Husband, Brian, to fully acquire the Business in the beginning of 2015. We strive to maintain the customer satisfaction and unmatched balloon artistry perfection that helped "CBC" grow over the decades. We continue to bring new design ideas to the industry and look forward to making your event memorable. Under new ownership, we have secured and maintain many large accounts, and look forward to expanding our exceptional service into the future.

Brian and Jennifer, along with their 11 yr old son, Caleb, currently reside in St. Petersburg, FL. Born and raised in suburbs outside of Cleveland, OH, they transitioned to St. Pete in 2007. Caleb is already learning to twist balloons, and may one day maintain operations of "CBC" and continue a Tampa Bay Legacy.



---
Previous Owners: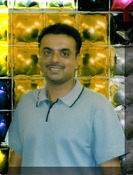 Shaz Ghani

Shaz completed his undergraduate work and received a Civil Engineering degree from Kingston University in London, England. In 1991 he continued his education in Tampa, FL, with an emphasis in Interior Design. Shaz had expanded the company's technical strengths and broadened the creative process by applying his international experience and his unyielding commitments to customer service. He became a full partner in July 2002 and retired from the company April 2015.
---
Brenda L Boyd, CBA

With extensive experience in creative design work, Brenda received her Certified Balloon Artist designation from the Qualatex Balloon Network in 1996. She lead the company in the pursuit of excellence in balloon decorating and is dedicated to the research and development of new products and services. Her work received both regional and international recognition and frequently won best of show for her clients. She joined Celebration Balloon Center in 1989 and continued to build the foundation for the future success of the professional balloon industry. Brenda retired retired from the company in 2002.

---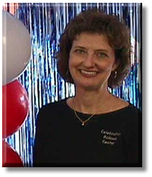 Debra B. Henderson

As one of the founders of Celebration Balloon Center, Debra brought many years of experience in corporate marketing, public relations, advertising and community service to the business. Under her steady and able leadership, she helped the company grow and prosper. Cultivating life-long ties with customers, Debra strived to ensure that each client's event was handled with as much professionalism and perfection as if it were her own. Debra retired from the company in 2002.

---
Diane M. Boyd, MBA

Diane graduated from The Ohio State University with a Bachelor of Science degree in Finance. She received her MBA degree from The University of South Florida and had over 20 years of senior level managerial and financial experience. She was in charge of all financial/accounting functions for the organization. Diane retired from the company in 2002.

---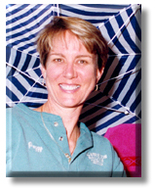 Peggy A. Pieringer, CBA

A native Floridian, Peggy received her Bachelor in Fine Arts degree from the University of South Florida, majoring in Music Performance. A classically trained cellist, Peggy has performed with the Florida West Coast Symphony Orchestra since 1982. She joined Celebration Balloon Center in 1997 and quickly established an imaginative and creative approach to client projects. Peggy received her Certified Balloon Artist designation in July of 1998. Peggy retired from the company in 2002.

---